Nimix kayak rentals single kayaks
Adresse: Nimix Kajakuthyrning, 22270 Eckerö
Datum: Mittwoch 8 jul 2020 - Montag 31 Aug 2020
Karte anzeigen

Adresse: Nimix Kajakuthyrning, 22270 Eckerö

Paddling is a wonderful way to experience the nature of the archipelago close up hand. Try it! Rent a Kayak! We have singlekayaks for both beginners and more advanced paddlers. Startingpoint in Eckerö on the west side of Åland.
Nimix Kayakrentals is fully mobile, ie. we can deliver the kayaks to any location from where the customer wants to start his trip. Return of the kayaks can be either on the same place as departure or at a different location. The base of our operations is in Eckerö, but we also serve customers on all of the main Åland-Islands. The kayaks always come equipped with paddle, life-vest and spray-deck. Instructions on how to handle the kayak are also given at request. All of our kayaks are made by well-known manufacturers and are both stable and very capable at sea. They suite both beginners and advanced paddlers.

The bookable kayaks have startingpoint in Eckerö. It´s possible to have the kayaks delivered to other places, the extra deliveryfee is paid directly to Nimix (cash in euro or by creditcard).

Deliveryfees: Hammarland EUR 35. Geta, Sund, Saltvik, Lumparland EUR 80. Vårdö EUR 90. Föglö EUR 200.
The delivery shall be booked directly with Nimix, phone: +358 50 66716 or e-mail: nimix@aland.net
Mehr anzeigen
Buchen
Wählen Sie ein Startdatum:
Ferienhäuser
Entfernung: 2,7 km
Welcome to our estate with a guest house, cottages, bakery and a café. We have a central location in Eckerö. Within walking distance you can reach a golf course, a family park with a restaurant, the local church and to a lake. There is a bus stop just nearby which can take you to Mariehamn, the city in Åland. We are certified by Green Key and we strive to be as environmentally friendly as possible. We offer accommodation in 4 rooms in the guesthouse, or one of our 5 cottages om the property. Breakfast, linen, towels, cleaning and wifi is always included in the price. The breakfast is served in our pavilion next to the bakery, where we offer a good and rich breakfast of local products and freshly baked bread.
Bed & Breakfast
Entfernung: 893 Meter
A beautiful location by the Sea of Åland, in Eckerö, only a 10 minutes walk from the Eckerö Line Harbour. Havsbandet has 20 rooms, all of which are individually decorated. A cosy restaurant and a large dining terrace with a sea-view. In front of the Post & Customs House, you can enjoy a swim, right by the stunning red granite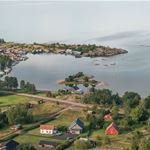 Unterkunft
Entfernung: 450 Meter
You stay near Käringsund, idyllically located in the west on the coastline by the old fishing village. Here you can stay comfortable and all our houses are well equipped to a high standard. Choose from rural charm and high-class in a private beachfront location.