Viking games, group price (min. 10 persons)
Adresse: Vikingabybn, 22430 Saltvik
Karte anzeigen
Adresse: Vikingabybn, 22430 Saltvik

Welcome to the Viking Age! In the Viking village in Kvarnbo, Saltvik we arrange activities for groups of minimum 10 persons. You can engage in Viking games such as "Dra Hank", "Rövkrok", "Daska Markus" and caber toss.
Activities for groups are arranged during April-June and August-September. Two out of the following games are included in the group activity:
- Dra Hank
- Rövkrok
- Daska Markus
- caber toss
- showfight
In addition you can book archery and axe throwing for 25 EUR per activity.

All guests borrow Viking clothes. Please state already at the booking how many men/women are participating, in order for us to arrange the clothing before your arrival. After you have made your booking you will be contacted and we can agree upon what time your Viking games will start.
Mehr anzeigen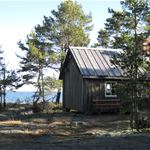 Ferienhäuser
Entfernung: 10 km
Sviskär is an island of 28 acres in the north of the Åland archipelago. Sviskär is a haven for those seeking tranquility and the simple life. Here you can take a break and just listen to the sounds of nature during a couple of days. The island is small enough to take a walk around it.There is no electricity on the island.
Bed & Breakfast
Entfernung: 727 Meter
Saltvik B&B is located in the old, tradition-filled Husmoderskolan in Åland. An excellent place to stay, especially for families with children and all others, wishing to relax in peace and quiet. You easily reach us by bike, motorcycle or car
Hotels
Entfernung: 9,9 km
Bastö Hotell & Stugby is located in the middle of the beautiful Åland Islands. It is surrounded by warm sea gulfs, bathing coves and smooth red cliffs.
 Bastö Hotell & Stugby is near all the tourist attractions on the island, and there's a swimming beach only 100m away. The distance from the ferry terminal and airport to Bastö is 28 km. Individuals or groups, old or young, this is a place you cannot m