Gröna Udden for motorhomes and caravans incl electricity
Address

: Östernäsvägen 1 A, 22100 Mariehamn
show map
Location: Mariehamn
Campsites | We offer camping in a beautiful and child-friendly environment with a variety of activities for the whole family. Gröna Udden belongs, with its splendid location in Mariehamn at the beach of the city bay, to the most beautiful locations in the city. The distance to the town center is just a few minutes stroll
In the centrally located reception building you will find our campground hosts that welcome you. Guests can check in around the clock during the peak season and in the reception building there is also a café and mini-market.

Toilets, showers and a baby nursery room are available in our centrally located sanitary building. Close by is also our kitchen building. There you will find a microwave, stove and washing facilities. There is also access to refrigerator and washing&drying facilities for clothes.

Electricity for your motorhome is included in price.

Price/day: Motorhome/caravan incl electricity EUR 15, adult EUR 10, youth 10-17 yrs EUR 10, child 0-9 yrs EUR 0.
Facilities and services
General facilities

Sauna

Parking lot

Laundry facilities

Shower

Eat & Drink on site

Leisure facilities
Compare "Gröna Udden for motorhomes and caravans incl electricity" with similar alternatives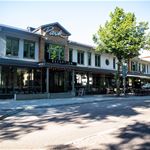 Welcome to the friendly Park Alandia Hotel, a family-owned hotel in the centre of Mariehamn, and within a couple of minutes' walk from the harbours, shopping, restaurants, cafés, entertainment and activities.
A four-star hotel with all sorts of opportunities! Relaxation, pleasure or conference? At Hotell Arkipelag you will stay next to the sea while being right in the heart of Mariehamn. A delicious breakfast buffet and an evening sauna are included.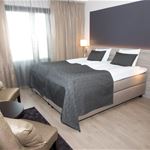 Hotel Pommern is located in central Mariehamn, with easy access to shopping, sightseeing, bars and nightlife. Pedestrian street, playgrounds and beaches are all close by. Welcome to our family hotel!