Eckerö Camping, motorhomes and caravans
Address

: Skaguddsvägen 24, 22270 Eckerö
show map
Location: Main island
Campsites | Motorhomes and caravans
There is a campsite with electricity for caravans and mobile homes and tent sites. The service buildings have toilets, showers, a mini kitchen and a washing machine.

Services: Café, grill, reception, minigolf, kids' play ground with swings, sand box, ball sports court, adventure trail for kids, sauna and outdoor hot tub.
Facilities and services
General facilities

Sauna

Parking lot

Laundry facilities

Shower

Leisure facilities
Compare "Eckerö Camping, motorhomes and caravans" with similar alternatives
Bastö Hotell & Stugby is located in the middle of the beautiful Åland Islands. It is surrounded by warm sea gulfs, bathing coves and smooth red cliffs.
 Bastö Hotell & Stugby is near all the tourist attractions on the island, and there's a swimming beach only 100m away. The distance from the ferry terminal and airport to Bastö is 28 km. Individuals or groups, old or young, this is a place you cannot miss.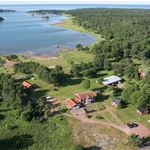 On Ålands southwest tip, next to the open see You find Djurviks Guesthouse. Beautiful surroundings with swans and wild ducks swimming in the bay. Pike hiding in the reeds. On the shore there is a sauna and a place were You can grill. Welcome!
Havsvidden resort is located in the north of Åland near Norrhavet and the nature. It is always spectacular at Havsvidden both in winters and summers. The main building consists of reception, bar, restaurant, lounge and conference rooms. We are offering ackommodation in hotel rooms and cliff houses and what is more, we have a marina which provides 20 places for visiting boats. In our poolhouse we have a sauna, swimming pool and jacuzzi.