Granbergs Gästhus
Address

: Käringsundsvägen 54, 22270 Eckerö
show map
Location:
Cottages | You stay near Käringsund, idyllically located in the west on the coastline by the old fishing village. Here you can stay comfortable and all our houses are well equipped to a high standard. Choose from rural charm and high-class in a private beachfront location.
We have six cottages/houses with 2-9 beds in each, all fully equipped. In your immediate vicinity is a child-friendly sandy beach, many activities, game safari, small grossery, cafeteria and restaurants.
Compare "Granbergs Gästhus" with similar alternatives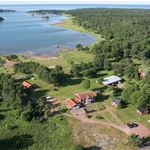 On Ålands southwest tip, next to the open see You find Djurviks Guesthouse. Beautiful surroundings with swans and wild ducks swimming in the bay. Pike hiding in the reeds. On the shore there is a sauna and a place were You can grill. Welcome!
Bastö Hotell & Stugby is located in the middle of the beautiful Åland Islands. It is surrounded by warm sea gulfs, bathing coves and smooth red cliffs.
 Bastö Hotell & Stugby is near all the tourist attractions on the island, and there's a swimming beach only 100m away. The distance from the ferry terminal and airport to Bastö is 28 km. Individuals or groups, old or young, this is a place you cannot miss.