Käringsund Triathlon 2020
Date: Friday 28 aug 2020
- Saturday 29 Aug 2020
Käringsund Triathlon is a spectator-friendly event with a unique opportunity to follow the start, finish and transitions comfortably from the restaurant terrace.
In Käringsund Triathlon you can choose between competition and fitness classes in sprint and half distance. We also offer a mini triathlon for children.

A barbeque buffet is served on Saturday from 7 to 10 p.m.
Bed & Breakfast
Distance: 2.2 km
Abeautiful location by the Sea of Åland, in Eckerö, only a 10 minutes walk from the Eckerö Line Harbour. Havsbandet has 20 rooms, all of which are individually decorated. A cosy restaurant and a large dining terrace with a sea-view. In front of the Post & Customs House, you can enjoy a swim, right by the stunning red granite
Cottages
Distance: 4.4 km
Welcome to our estate with a guest house, cottages, bakery and a café. We have a central location in Eckerö. Within walking distance you can reach a golf course, a family park with a restaurant, the local church and to a lake. There is a bus stop just nearby which can take you to Mariehamn, the city in Åland. We are certified by Green Key and we strive to be as environmentally friendly as possible. We offer accommodation in 4 rooms in the guesthouse, or one of our 5 cottages om the property. Breakfast, linen, towels, cleaning and wifi is always included in the price. The breakfast is served in our pavilion next to the bakery, where we offer a good and rich breakfast of local products and freshly baked bread.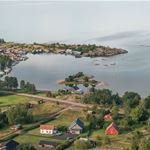 Accommodation
Distance: 1.6 km
You stay near Käringsund, idyllically located in the west on the coastline by the old fishing village. Here you can stay comfortable and all our houses are well equipped to a high standard. Choose from rural charm and high-class in a private beachfront location.