Christmas buffet at Restaurant Q at Degersand
Category:
Events, Family, Culture, [...]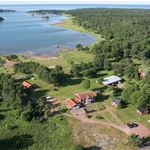 Overnight cabins
Distance: 11.9 km
On Ålands southwest tip, next to the open see You find Djurviks Guesthouse. Beautiful surroundings with swans and wild ducks swimming in the bay. On the shore there is a sauna and a place were You can grill.
Hotels
Distance: 8.2 km
Eckerö hotel is beautifully situated, along the Käringsund road and nestling in relaxing surroundings near the sea. All our rooms 40 rooms have shower, own WC, hairdrier, flat TV screen, telephone(ISDN.NB! Rooms on Astrids Royal floor ( 2.floor/no elevator/stairs) have also a mini refrigerators.All our rooms non smoking. Wooden floors. No pets allowed in our hotelrooms. Please contact us direct for more precise information. Free wireless.
Bed & Breakfast
Distance: 7.5 km
Abeautiful location by the Sea of Åland, in Eckerö, only a 10 minutes walk from the Eckerö Line Harbour. Havsbandet has 20 rooms, all of which are individually decorated. A cosy restaurant and a large dining terrace with a sea-view. In front of the Post & Customs House, you can enjoy a swim, right by the stunning red granite