Dinner cruising with M/S Sunnan II
Category:
Events, Family, Nightlife
This dinner cruise is arranged as a round trip around the southern parts of Mariehamn. The vessel leaves from the Maritime Quartier and returns to the same place about 3,5 hours later.
On Satudays, taking the weather conditions into account, there is a longer dinner cruise to i.e. Ödkarbyviken or some other interesting place!
Apartment
Distance: 826 meters
Light & modern fully furnished flats located in a green & peaceful villa area of Mariehamn, only 5-10 min bicycleride/walk to city centre. The closest beach and bathhouse Mariebad is only 600 m away, its 1 km to one of Ålands best sand beach Nabben, museums, cafe, restaurants, shop, etc. We rent out studioflats for 1-3 guests, one bedroom flats for 1-6 guests and a big two bedroom flat up to 10 guests.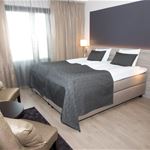 Hotels
Distance: 820 meters
Hotel Pommern is located in central Mariehamn, with easy access to shopping, sightseeing, bars and nightlife. Pedestrian street, playgrounds and beaches are all close by. Welcome to our family hotel!
Hotels
Distance: 595 meters
A four-star hotel with all sorts of opportunities! Relaxation, pleasure or conference? At Hotell Arkipelag you will stay next to the sea while being right in the heart of Mariehamn. A delicious breakfast buffet and an evening sauna are included.