Viking Fair 2018
Category:
Events, Family, Culture, [...]
Date: Thursday 26 jul 2018
- Saturday 28 Jul 2018
Dive into the world of Vikings! Enjoy Viking-style songs and music, weapon games and training in the art of combat.

Meet craftspeople at the market: leather tanners, blacksmiths, jewellers and silversmiths who make beautiful articles for everyday use as well as objects d'art using ancient methods, and of course a large number of sellers of other arts and crafts, textiles and home-baked bread.

The food is typically in the style of the Vikings and there are plenty of excellent dishes to choose from. The Café Knarren is located inside the Viking village. It sells light meals and drinks such as coffee, beer and wine.

There will be a bus transfer with return to the market during the market days.
Prices from
10 €
Price information
Children under 6 years: free entry. Children 7-12 years: 5 € (SEK 50,-). Adults and children from 13 years: 10 € (SEK 100,-). Tickets bought beforehand: 4 € / 8 €.
Cottages
Distance: 9.5 km
Eden's cottages are located by a sheltered sea inlet in the middle of the Åland Islands. Here you stay comfortably in the midst of nature and enjoy sea views, bathing and fine fishing grounds. The cottages have sea view and in the area is also a beach sauna.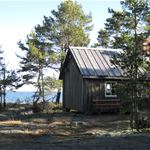 Cottages
Distance: 9.3 km
Sviskär is an island of 28 acres in the north of the Åland archipelago. Sviskär is a haven for those seeking tranquility and the simple life. Here you can take a break and just listen to the sounds of nature during a couple of days. The island is small enough to take a walk around it.There is no electricity on the island.
Bed & Breakfast
Distance: 95 meters
Saltvik B&B is located in the old, tradition-filled Husmoderskolan in Åland. An excellent place to stay, especially for families with children and all others, wishing to relax in peace and quiet. You easily reach us by bike, motorcycle or car