Restaurant Smakbyn serves the traditional Christmas buffet on 1-20 December 2017.

Thursdays and Fridays at 18:00,
Saturdays at 16:00 & 19:00.
Not on Sundays except on Sunday the 17th of December at 16. Lunch buffet on 15 Dec at 13:00.

Price: Thu 36€, Fri 38€, Sat & Sun 44€, children under 12 yrs 2€ per year.

Please book a table in advance!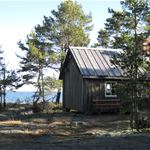 Cottages
Distance: 13.4 km
Sviskär is an island of 28 acres in the north of the Åland archipelago. Sviskär is a haven for those seeking tranquility and the simple life. Here you can take a break and just listen to the sounds of nature during a couple of days. The island is small enough to take a walk around it.There is no electricity on the island.
Cottages
Distance: 5 km
Eden's cottages are located by a sheltered sea inlet in the middle of the Åland Islands. Here you stay comfortably in the midst of nature and enjoy sea views, bathing and fine fishing grounds. The cottages have sea view and in the area is also a beach sauna.
Bed & Breakfast
Distance: 4.8 km
Saltvik B&B is located in the old, tradition-filled Husmoderskolan in Åland. An excellent place to stay, especially for families with children and all others, wishing to relax in peace and quiet. You easily reach us by bike, motorcycle or car