Seagram Jazz 'n Blues 2018
Category:
Events, Culture, Music
Date: Saturday 4 aug 2018
- Sunday 5 Aug 2018
Saturday night's blues jam and a swinging brunch-jazz on Sunday. Enjoy a music weekend at restaurant Seagram in Degerby, Föglö.

Saturday 4 Aug at 21-01 "Open stage" with Brian Kramer's Travelin' Blues Jam.
Den amerikanske bluesgitarristen Brian Kramer återvänder till Seagram med sitt band och bjuder den här gången in lokala musiker till en het jamsession.
Inträde: 15 €, gäller även matgäster och betalas på plats.

Söndag 5.8 kl 12-14 jazzbrunch.
Erkänt goda buffé till tonerna av Seaside Jazz Band under ledning av Christer "Kecke" Mörn.
Fritt inträde.

Matgäster bör boka bord i god tid båda dagarna.

www.seagram.ax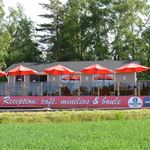 Cottages
Distance: 9.2 km
Svinö stugby is situated in a peaceful and park-like nature in the southeast part of Åland Islands (Lumparland). Svinö offers accomodation in lodges of different standards, from basic campinglodges to modern houses with fully equipped kitchen. We offer more than 70 beds.
Campsites
Distance: 16.5 km
Steda caravan is a company that hires a Caravan and a Camper. No smoking and no pets allowed.
Cottages
Distance: 14.2 km
Villa Kommodor is located in the archipelago of the Åland Islands and can be reached by car from Mariehamn harbour in approximately 30 minutes and from Långnäs harbour in approximately 10 minutes.