The midsummer's celebration at Jan Karlsgården in Sund
Category:
Events, Family, Culture, [...]
The traditional midsummer´s celebration at Jan Karlsgården with decoration, raising of the pole, parade and dancing.
Program:
18:00 -19: 50 The midsummer bar is dressed and embellished
19.15 The Nordic choir sings while the bar is dressed
19:50 Kronparad under music train
20.00 Rack trip
- Speech, the elder's song, folk dance
- At 21:30 the Nordic choir sings a few songs
- Dance around the bar with the kids
- Sales of coffee, pancake and sausage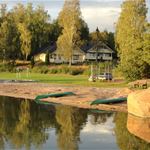 Cottages
Distance: 6.1 km
Hjortö cottages & logvillas - Tornvillan
Cottages
Distance: 5 km
Eden's cottages are located by a sheltered sea inlet in the middle of the Åland Islands. Here you stay comfortably in the midst of nature and enjoy sea views, bathing and fine fishing grounds. The cottages have sea view and in the area is also a beach sauna.
Bed & Breakfast
Distance: 4.7 km
Saltvik B&B is located in the old, tradition-filled Husmoderskolan in Åland. An excellent place to stay, especially for families with children and all others, wishing to relax in peace and quiet. You easily reach us by bike, motorcycle or car