Viking Market 26-28 July - 3-day market pass
Vikingamarknaden, 22430 Saltvik (
show map
)
Category:
Events, Family, Culture, [...]
Date: Thursday 26 jul 2018
The 3-day market pass is valid for the period 26-28.7.2018

Craftspeople, jesters, musicians, battle ready viking warriors and people in viking clothes.
Come and join a true Viking adventure for the whole family in Kvarnbo, Åland Islands.

The large Viking Market on Åland Islands is held every year in Kvarnbo, Saltvik on traditional soil. In the area there are several ancient remains and graves especially from the late Iron Age. New archaeological findings also indicate that Kvarnbo was a more important commerce hub than what was previously held.

The Viking Market is a festival for the whole family. You can enjoy everything from dance and music to fierce warriors engaging in viking style combat. At the market you can see craftspeople making beautiful articles for everyday use as well as art objects using ancient methods. The merchants offer textiles, pearls, forged products and leather work. The Restaurants Knarren and Boathouse serve good viking style food and drink. Younger Vikings enjoy the children's corner.

Why not also take a walk down to the Kvarnbo beach and look at the hand built Viking ship, made by Fornföreningen Fibula.

Don't miss!
Gycklaren Zack, the jester who walks among visitors and vikings with his performance. Every evening a fire show!
Obscurus Orbis, a latvian band specialised in medieval metal music.
Thomas Wolf Pettersson, archery and axe throwing.

The market is open on Thursday 12–18, Friday 12–20 and on Saturday 12–18. The Restaurant Knarren is open during the evening activities until 01. There are buses going between Mariehamn (Viking Line terminal and Bussplan) and the Viking Market.

The 3-day market pass is valid for all three market days 26-28.7.2018
RESERVATIONS: tickets can be booked and paid until 12am the first Marketday. After that tickets can be bought by the entrance of the market, cash payment only at the entrance.
Date

Time

Arena/Place

Thursday 26 jul 2018
12:00

- 18:00

Vikingabyn
Street address 1
Vikingamarknaden
Postal code
22430
City (address)
Saltvik
Phone number
358 4573427500
Website
http://www.fibula.ax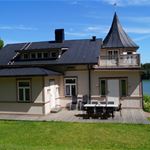 Cottages
Distance: 5.5 km
Our Towerhouse is an old house with lots of charm. Towerhouse is located in Saltvik next to a lake connected to the sea, splendid sea view, big garden, own jetty and beach.
Bed & Breakfast
Distance: 164 meters
Saltvik B&B is located in the old, tradition-filled Husmoderskolan in Åland. An excellent place to stay, especially for families with children and all others, wishing to relax in peace and quiet. You easily reach us by bike, motorcycle or car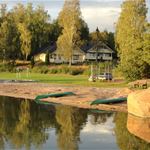 Cottages
Distance: 3.7 km
Hjortö cottages & logvillas