Katrina Chamber Music Festival: Che si puo fare?
Sankt Görans kyrka, 22100 Mariehamn (
show map
)
Che si puo fare?, Kastelholm Castle, Kastelholm Sund
"Che si puo fare?"
Barbara Strozzi (1619-1677): Che si può fare
Francesca Caccini (1587-1641): O che nuovo stupor
Rebecca Clarke (1886-1979): Prelude, Allegro and Pastorale for clarinet and viola
Onuté Narbutaité (1956- ): Gute Nacht for flute, violin and viola (1997)
Johann Sebastian Bach (1685-1750): Inventions, version for violin and cello
Amanda Maier (1853-1894): from String Quartet
Bengt Forsberg (harpsichord), Kreeta-Maria Kentala (violin), Jakob Koranyi (cello), Julia-Maria Kretz (violin), Erik Larsson (clarinet), Tuuli Lindeberg (soprano), Janne Thomsen (flute), Kristina Winiarski (cello), Cecilia Zilliacus (violin), Ylvali Zilliacus (viola)

Free bus transport to concert place outside Mariehamn, information tel +358 40 1649310.
Street address 1
Sankt Görans kyrka
Postal code
22100
City (address)
Mariehamn
Phone number
358 401649310
Website
http://www.katrina.ax
Bed & Breakfast
Distance: 4.6 km
Saltvik B&B is located in the old, tradition-filled Husmoderskolan in Åland. An excellent place to stay, especially for families with children and all others, wishing to relax in peace and quiet. You easily reach us by bike, motorcycle or car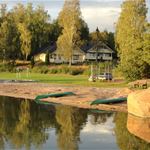 Cottages
Distance: 6 km
Hjortö cottages & logvillas
Cottages
Distance: 5.1 km
Eden's cottages are located by a sheltered sea inlet in the middle of the Åland Islands. Here you stay comfortably in the midst of nature and enjoy sea views, bathing and fine fishing grounds. The cottages have sea view and in the area is also a beach sauna.