Klosterkällaren/Franciskuskapellet
Address: Storagatan 1, 22100 Mariehamn
Show map
Address: Storagatan 1, 22100 Mariehamn

Kökar är en ögrupp söder om Åland, långt ute i havet. I dag ligger den avsides, men på medeltiden sjöd här av liv och rörelse. Den viktiga segelleden mellan Sverige och Finland/Baltikum passerade, ett viktigt säsongsfiske på torsk bedrevs vid utskären och ett franciskanerkloster fanns på Hamnö. Fornlämningarna på Hamnö är de mest spännande som finns i den åländska skärgården.

Hamnö på Kökar är en av de märkligaste platserna i den åländska skärgården. På en bergig, drygt en kilometer lång ö finns omfattande lämningar av medeltida aktiviteter, helt unika för en maritim miljö. Det strategiska läget på gränsen mellan Östersjön och skärgårdshavet har gjort att sjöfarare under århundraden nyttjat denna skyddade hamn invid viktiga farleder. Sjöfarten blev i sin tur grunden till såväl kyrka som kloster, och Hamnö blev så småningom ett centrum för kyrkligt och kulturellt liv i skärgården. Verksamheten kan spåras tillbaka till tidig medeltid, men fick sin höjdpunkt under 1400-talet under franciskanernas ledning.
OPEN 2019:
April−october
Show more
About this activity
Phone number

Contact person name

Contact person email

Website

Price information
Hotels
Distance: 347 meters
A four-star hotel with all sorts of opportunities! Relaxation, pleasure or conference? At Hotell Arkipelag you will stay next to the sea while being right in the heart of Mariehamn. A delicious breakfast buffet and an evening sauna are included.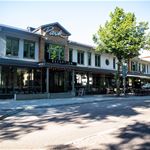 Hotels
Distance: 113 meters
Welcome to the friendly Park Alandia Hotel, a family-owned hotel in the centre of Mariehamn, and within a couple of minutes' walk from the harbours, shopping, restaurants, cafés, entertainment and activities.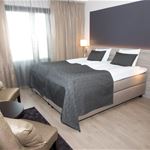 Hotels
Distance: 248 meters
Hotel Pommern is located in central Mariehamn, with easy access to shopping, sightseeing, bars and nightlife. Pedestrian street, playgrounds and beaches are all close by. Welcome to our family hotel!