Herröskatan − smooth bathing cliffs and sea eagles
Show map
Herroskatan with rich flora exhibits many features of Åland biotypes including mown meadows, groves and seaside meadows. Here grow narrow-leaved helleborine, early purple orchid and large stocks of bloody cranesbill, wild marjoram and common milkwart. Wild meadow saffron or "naked lady" is one of Herrön's rarities.

The insect fauna is rich and during the migration period, many bird species can be seen. Common whitethroat, Eurasian blackcap, thrush nightingale and common rosefinch nest here. The bird tower offers a wonderful seaview over the southernmost tip of the main island of Åland. The fortress ruins and quays date back to the Russian period 1809−1917, and partly from the war years 1939−1945 when Finnish troops fortified the area.

This is a nature reserve, please follow the marked trails. You may not break branches, pick berries, mushrooms, plants, mosses, lichens, fire wood or stones. From May until October there are grazing cattle in the area. Dogs must be kept on leash.

Enjoy nature! Take nothing but photos, leave nothing but footsteps.
Length: 1,6 km
Location: Herröskatan, Lemland
Terrain: Easy, seaside rocks
Signposts: White-topped poles

Share your best hiking experiences on social media with #hikingaland
Show more
Bed & Breakfast
Distance: 17.4 km
Pensionat Solhem offers an affordable stay close to nature and a beautiful sea view near the shipping town Mariehamn. The town centre is just 3 km's away.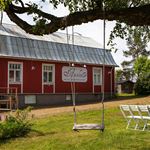 Bed & Breakfast
Distance: 11.5 km
Amalias Bed&Breakfast, located in Lemland. All of their rooms are named after sailing ships that were built in Lemland long time ago; Linnea, Lenni, Anna, Leo, Augusta and Mathilda.
Bed & Breakfast
Distance: 12.4 km
Fågelvik is situated in Järsö, 11 km south of Mariehamn city. The place is ideal for you who would like to live near the nature and sea. Fågelvik B&B is open from 15 May - 30 Sep.