Dinner in the Sea
Address: Rundbergs Stugor&Event
Show map
Address: Rundbergs Stugor&Event

Det bästa med Åland är havet och skärgården med en storslagen natur. Uppplev Åland när det är som bäst. Var med om ditt livs bästa upplevelse - ett oförglömligt minne för livet.
Dinner in the Sea - Unikt upplevelse event för max. 6 personer. Inkluderar båttransport, välkomstskål och en lyxig och smakrik chark & osttallrik med åländska utvalda delikatesser inkl. dryck.

Eventet inklusive båttransport tar 1 timme

Eventet kostar 1200 €

Bokningsbart:
Vecka 29:
Måndag 15.7 kl. 14-15
Onsdag 17.7 kl. 14-15
Fredag 19.7 kl. 14-15

Vecka 30:
Måndag 22.7 kl. 15-15
Onsdag 24.7 kl. 14-15
Fredag 26.7 kl. 14-15

Vecka 31:
Måndag 29.7 kl. 14-15
Onsdag 31.7 kl. 14-15
Fredag 2.8 kl. 14-15

Övriga tider enligt överenskommelse.

VANLIGA FRÅGOR:
Kan jag avbeställa Dinner in the Sea?
Din bokning är bindande och återbetalas ej.

INSTÄLLT EVENT
Upplevelsen är väderberoende och kan ställas in med kort varsel.
Om event blir avblåst så har du rätt att bli ombokad till ett senare datum.

Viktigt:
- Bekväma skor, ej högklackat
- På grund av säkerhetsskäl nekas berusade personer
- Eventuella matallergier meddelas på förhand
- Försäkring gäler under båttransport. Under vistelsen på ön gäller egen försäkring.

Presentkort?
Presentkort i lyxig presentbox levereras 3-5 arbetsdagar, leveranskostnader inkl. postporto 5 €.
Alternativt ett digitalt presentkort som levereras kostnadsfritt per mejl till vald mejladress.
Presentkortet är giltigt 12 månader från inköps datum.
Show more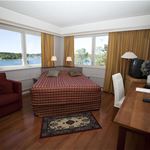 Hotels
Distance: 6.1 km
Hotel Adlon is our cozy family hotel in Mariehamn's western harbor, located close to the ferry terminal with walking distance from city center and sightseeing.
Apartment
Distance: 6.7 km
Light & modern fully furnished flats located in a green & peaceful villa area of Mariehamn, only 5-10 min bicycleride/walk to city centre. The closest beach and bathhouse Mariebad is only 600 m away, its 1 km to one of Ålands best sand beach Nabben, museums, cafe, restaurants, shop, etc. We rent out studioflats for 1-3 guests, one bedroom flats for 1-6 guests and a big two bedroom flat up to 10 guests.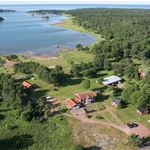 Overnight cabins
Distance: 2.4 km
On Ålands southwest tip, next to the open see You find Djurviks Guesthouse. Beautiful surroundings with swans and wild ducks swimming in the bay. On the shore there is a sauna and a place were You can grill.