Grannas äppel
Address: Västanträsk
Show map
Address: Västanträsk

As you approach northern Finström, something happens to the landscape. On both sides of the road towards Geta there are rows upon rows of apple trees in large billowing fields.

In the early part of the summer the trees are white with apple blossom; in the late summer they are red with fruit; and in the late autumn they are dazzling with autumn leaves against the grey light.

CLIMATE SUITED TO APPLES
About five million kilograms of apples were produced in Finland in 2012. Three million of them – or 62% – came from Åland. A total of 270 hectares are cultivated by 44 apple producers. Most Ålander apples are sold on the Finnish market.

The climate, especially in Finström, Geta and Vårdö, favours the cultivation of apples – the springs come late and there is less risk of frost when the trees come into flower, the summers are sunny and the autumns are long and warm.

Jan Mattsson of Finström Vestanträsk grew up on a farm that cultivated apples and had been a family farm since the 1700s. He has 80,000 apple trees on 33 hectares of land.

"Apples have been cultivated at Grannas since the early 60s. In 2000 we started cultivating new varieties and using modern cultivation systems – the cultivation of apples has increased rapidly since then. We started manufacturing juice in 2007," says Jan.

About five million kilograms of apples were produced in Finland in 2012. Three million of them – or 62% – came from Åland.
Show more
About this activity
Phone number

Contact person name

Contact person email

Website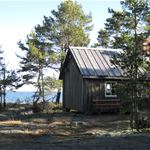 Cottages
Distance: 10.5 km
Sviskär is an island of 28 acres in the north of the Åland archipelago. Sviskär is a haven for those seeking tranquility and the simple life. Here you can take a break and just listen to the sounds of nature during a couple of days. The island is small enough to take a walk around it.There is no electricity on the island.
Hotels
Distance: 5 km
Bastö Hotell & Stugby is located in the middle of the beautiful Åland Islands. It is surrounded by warm sea gulfs, bathing coves and smooth red cliffs.
 Bastö Hotell & Stugby is near all the tourist attractions on the island, and there's a swimming beach only 100m away. The distance from the ferry terminal and airport to Bastö is 28 km. Individuals or groups, old or young, this is a place you cannot miss.
Hotels
Distance: 8.8 km
Havsvidden resort is located in the north of Åland near Norrhavet and the nature. It is always spectacular at Havsvidden both in winters and summers. The main building consists of reception, bar, restaurant, lounge and conference rooms. We are offering ackommodation in hotel rooms and cliff houses and what is more, we have a marina which provides 20 places for visiting boats. In our poolhouse we have a sauna, swimming pool and jacuzzi.