Kökar church - S:ta Anna
Address: Hamnö, 22730 Kökar
Show map
Address: Hamnö, 22730 Kökar

Kökar church was erected in 1784 on the ruins of the medieval monastic church, which seems to have been shaped like a normal Åland parish church, probably from the 14th century. The church is also located along the Danish Itinerary, the so-called Valdemar-route.
The best known artifact of the church is the bowl of a font of Gotland limestone from the 13th century style, which belonged to the medieval church. Above all, Kökar is well known as the location of one of the Finnish medieval Franciscan Convents. It is not mentioned in the written sources until the 15th century. You can still visit the ruins of one of the monastic buildings, which today houses an exhibition of the archaeological artifacts and the history of the site.
Show more
Cottages
Distance: 34.1 km
Welcome to Nordbergs Stugor on Kumlinge, the north Archipelago of the Aland Islands! Our holiday cottages are located near the water, in a smaller bay protected from the open sea. Open and flat beach area, very suitable for small children!
Cottages
Distance: 34.5 km
Henriksson's Cottages in Kumlinge offer genuine archipelago nature and peaceful surroundings next to excellent fishing waters. Our revisiting guests appreciate the quiet and pristine nature environment with smooth cliffs and rocks.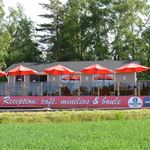 Cottages
Distance: 37.6 km
Svinö stugby is situated in a peaceful and park-like nature in the southeast part of Åland Islands (Lumparland). Svinö offers accomodation in lodges of different standards, from basic campinglodges to modern houses with fully equipped kitchen. We offer more than 70 beds.