Rocks, Stone Age, huts, ancient shores, wilderness
In the valley between Orrdalsklint and Långbergen you can learn about the lives of the first people to settle on the Islands. They were seal hunters who more than 5,000 years ago paddled ashore in a sheltered bay on what was then only a few rocky outcrops surrounded by a vast expanse of sea. The nearest mainland was much further away than today.
When you climb up Långbergen (about 100 m above sea level) you go another couple of thousand years back in time. Imagine the sound of giant waves crashing the against the rocks below: it is the end of the Ice Age. Swift currents wash away the rocks and gravel left by the receding glaciers, and mighty ridges ice chisel and grind the rock into new shapes.
At its beginning and end the trail coincides with the path that leads through the Stone Age Village. The 3.5 km of the trail that passes over Långbergen leads mainly across bare rock.

Location: 30 km north-east of Mariehamn (I5)
Start: Stone Age Village car park
Length: 5.5 km (2-3 hours)
Signposts: Yes
Theme: Stone Age, history of nature
Grade: medium
Show more
Cottages
Distance: 9.6 km
Eden's cottages are located by a sheltered sea inlet in the middle of the Åland Islands. Here you stay comfortably in the midst of nature and enjoy sea views, bathing and fine fishing grounds. The cottages have sea view and in the area is also a beach sauna.
Bed & Breakfast
Distance: 182 meters
Saltvik B&B is located in the old, tradition-filled Husmoderskolan in Åland. An excellent place to stay, especially for families with children and all others, wishing to relax in peace and quiet. You easily reach us by bike, motorcycle or car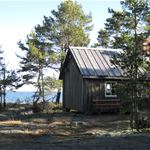 Cottages
Distance: 9.4 km
Sviskär is an island of 28 acres in the north of the Åland archipelago. Sviskär is a haven for those seeking tranquility and the simple life. Here you can take a break and just listen to the sounds of nature during a couple of days. The island is small enough to take a walk around it.There is no electricity on the island.