Ramsons, windflowers, orchids, birds, coastal meadows
Ramsholmen is a small peninsula covered in wooded meadows. Wooded meadows were common in Åland until the late 19th century, but changes in agriculture during the last 100 hundred years have led to the disappearance of most of these areas. Today, only a few of these luscious meadows are still maintained. Wooded meadows are the most diverse type of habitat in Åland. In spring and summer the floral splendour is truly strunning. Stroll through oceans of windflower, ramsons and cowslips; make your way through the maze of hazelnut bushes, past pollard ash-trees and onto silent coastal meadows, or take along your flora and try to identify orchids, snake's head and other rare species. There is an abundance of the strong-smelling, garlicky ramson, which has probably given the area its name. In July the meadows are mowed in the traditional manner. The hay and the foliage polled from the ancient ashes is used as fodder for the cattle.
Ramsholmen also boasts a rich bird life. Sea fowl, waders, hole nesters and other species breed or search for food in the rich grounds of the wooded meadow. To the east of Ramsholmen is Torpfjärden, a large bay with some of the finest bird life in the Åland Islands.
Location: 4.5 km from the centre of Mariehamn (G9)
Start: 200 metres from the kiosk west of Torpfjärden
Length: 1.5 km (½-1 hours)
Signposts: Yes, some
Theme: Botany, maintenance of cultural landscape.
Grade: easy
Show more
Cottages
Distance: 1.9 km
The cottage Solgläntan located in a scenic location near the water in Möckelö, only 3 km from the Mariehamn citycenter.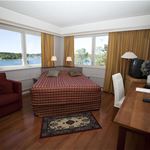 Hotels
Distance: 3 km
Hotel Adlon is our cozy family hotel in Mariehamn's western harbor, located close to the ferry terminal with walking distance from city center and sightseeing.
Hotels
Distance: 3.3 km
Hotel Savoy is located in central Mariehamn, with easy access to shopping, sightseeing, bars and nightlife. Pedestrian street, playgrounds and beaches are all close by. Welcome to our family hotel!