Kommunens vandringsled - Lemlandsleden - är ca 25 km lång och sträcker sig från Lemströms kanal till Lumparsund. Leden passerar Lemböte, Knutsboda, Söderby, Kyrkan, Norrby, Bistorp och Granboda. Längs med leden finns 11 informationstavlor som berättar om platserna man passerar.

Leden är väl utmärkt i terrängen med vitmålade band runt trädstammar, elstolpar, eller med särskilt uppsatta stolpar målade med vitt i toppen. På någon plats finns även vita markeringar på stenar och berg.

Kartan över Lemlandsleden finns till salu på kommunkansliet i Lemland, Lemlands bibliotek och Visit Ålands kontor i Mariehamn.

Har du frågor om leden? Kontakta Lemlands kommun på tel +358 (0)18 34 940 eller per e-post: info@lemland.ax
Show more
Hotels
Distance: 3.9 km
A four-star hotel with all sorts of opportunities! Relaxation, pleasure or conference? At Hotell Arkipelag you will stay next to the sea while being right in the heart of Mariehamn. A delicious breakfast buffet and an evening sauna are included.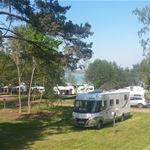 Campsites
Distance: 3.6 km
We offer camping in a beautiful and child-friendly environment with a variety of activities for the whole family. Gröna Udden belongs, with its splendid location in Mariehamn at the beach of the city bay, to the most beautiful locations in the city. The distance to the town center is just a few minutes stroll
Hotels
Distance: 4.2 km
Our hotel is situated right next to the shopping street in the town centre of Mariehamn. We are in walking distance from the harbours, the shops, night clubs and sights.