Ca 2,5 km lång, med start vid Geta kyrka. En vandring bakåt i tiden. Du börjar vid 1800-talets mitt, möter 1700-talet mitt i skogen, når 1500-talet vid Olofsnäs träsk, och kommer sedan tillbaka till medeltiden. Terrängen är kuperad och omväxlande, med soliga enbackar och mossbelupen granskog.
Medeltidsstigen är bitvis brant och tar ca 1,5 timmar.
Show more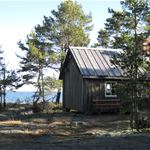 Cottages
Distance: 15.1 km
Sviskär is an island of 28 acres in the north of the Åland archipelago. Sviskär is a haven for those seeking tranquility and the simple life. Here you can take a break and just listen to the sounds of nature during a couple of days. The island is small enough to take a walk around it.There is no electricity on the island.
Hotels
Distance: 6.4 km
Havsvidden resort is located in the north of Åland near Norrhavet and the nature. It is always spectacular at Havsvidden both in winters and summers. The main building consists of reception, bar, restaurant, lounge and conference rooms. We are offering ackommodation in hotel rooms and cliff houses and what is more, we have a marina which provides 20 places for visiting boats. In our poolhouse we have a sauna, swimming pool and jacuzzi.
Hotels
Distance: 8.3 km
Bastö Hotell & Stugby is located in the middle of the beautiful Åland Islands. It is surrounded by warm sea gulfs, bathing coves and smooth red cliffs.
 Bastö Hotell & Stugby is near all the tourist attractions on the island, and there's a swimming beach only 100m away. The distance from the ferry terminal and airport to Bastö is 28 km. Individuals or groups, old or young, this is a place you cannot miss.