Välkommen att vandra i natursköna Jomala
Jomala vandringsled färdigställdes under 2008 och delfinansierades genom bidrag från Europeiska regionala utvecklingsfonden och landskapsregeringens mål 2-program.
Vandringsledens sträckning
Jomala vandringsled ansluter i norr i Emkarby till Sadelinleden, Finströms och Hammarlands gemensamma vandringsled. Jomala vandringsled går genom centrala och södra Jomala och dess totala längd är ca 40 km. Längs leden finns info-tavlor som kort berättar om platser som leden passerar, om byar, historiska platser, naturreservat och annat intressant. Längs vandringsleden finns ett flertal uthyrningsstugor och matserveringar.
Ledens utmärkning
Leden är väl utmärkt i terrängen med vitmålade band runt trädstammar, elstolpar, gatubelysningsstolpar eller med särskilt uppsatta stolpar målade med ett vitt band i toppändan. På vissa platser är leden utmärkt med vita markeringar på stenar eller berg.
Längs leden kan du tryggt vandra genom vacker natur med förvissningen om att du går där du har lov att gå och du behöver heller inte vara orolig för att gå bort dig. Jomala vandringsled är gjord för din trivsel!

Upplever du problem eller skador på vandringsleden eller info-tavlor rapportera då gärna till Jomala kommuns fritidschef Margita Söderqvist tel. (0)18 31 392.
En broschyr innehållande en karta över vandringsledens sträckning kan köpas på Vikingahallen, biblioteket och kommunkansliet i Jomala.
Show more
Cottages
Distance: 7.3 km
Norrö is a paradise for those who doesn´t want to make any compromises with the quality. It´s an outstanding combination of archipelago nature, red granite bedrocks, high-class cottages and good fishing. The personal service you´ll get from the landlord is fantastic.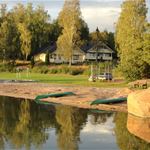 Cottages
Distance: 8.9 km
Hjortö cottages & logvillas
Cottages
Distance: 7.4 km
Björkbacken's cottages are located in the middle of the Åland Islands in Bamböle, Finström, by a sheltered bay. Here you can enjoy your holiday in the beautiful and peaceful surroundings.