Ett arboretum kan kortfattat beskrivas som en samling planterade träd och buskar av både inhemska och utländska arter. Syftet är att ge information om bl.a. trädarternas utseende, växtsätt, utbredning och genetik.
Ordet arboretum härstammar från latinets arbor, som betyder träd och ändelsen ­etum, vilken avser en växtplats för dessa.
Godby arboretum, som ligger i den så kallade Doktorsskogen, upprätthålls av skogsbruksbyrån vid Ålands landskapsregering och är belägen på landskapets egen mark. Arboretet är upplagt som en promenadstig i vanlig skogsterräng. Stigen är ungefär 1.700 meter lång och markerad som en slinga med början och slut vid samma plats.
Längs stigen finner man informationsskyltar som berättar vilka trädslag man ser.
Show more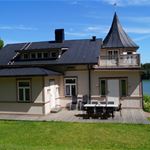 Cottages
Distance: 6.2 km
Our Towerhouse is an old house with lots of charm. Towerhouse is located in Saltvik next to a lake connected to the sea, splendid sea view, big garden, own jetty and beach.
Cottages
Distance: 6.9 km
Eden's cottages are located by a sheltered sea inlet in the middle of the Åland Islands. Here you stay comfortably in the midst of nature and enjoy sea views, bathing and fine fishing grounds. The cottages have sea view and in the area is also a beach sauna.
Bed & Breakfast
Distance: 4.8 km
Saltvik B&B is located in the old, tradition-filled Husmoderskolan in Åland. An excellent place to stay, especially for families with children and all others, wishing to relax in peace and quiet. You easily reach us by bike, motorcycle or car