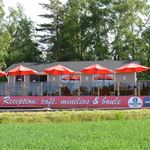 Cottages
Distance: 19.7 km
Svinö stugby is situated in a peaceful and park-like nature in the southeast part of Åland Islands (Lumparland). Svinö offers accomodation in lodges of different standards, from basic campinglodges to modern houses with fully equipped kitchen. We offer more than 70 beds.
Cottages
Distance: 23.3 km
Villa Kommodor is located in the archipelago of the Åland Islands and can be reached by car from Mariehamn harbour in approximately 30 minutes and from Långnäs harbour in approximately 10 minutes.
Cottages
Distance: 26.8 km
Welcome to Nordbergs Stugor on Kumlinge, the north Archipelago of the Aland Islands! Our holiday cottages are located near the water, in a smaller bay protected from the open sea. Open and flat beach area, very suitable for small children!