Bike excursion with guide
Address: Pub Stallhagen, 22410 Godby
Show map
Address: Pub Stallhagen, 22410 Godby

Life on the countryside with a bike!
Experience the countryside with a mountainbike together with your own guide who shares his or her Aland.
We´ll take you through sheep- and cow pastures. We´ll make some stops along the way and visit farms to see what they can offer when it comes to raw materials and finished products. Here you´ll taste, experience and feel the local gastronomy.

The excursions is only in Swedish or English.

Good to know:

- the tour is about 4 hours and suitable only for adults
- the bikes are TREK-bikes
- start at 12:00 at Pub Stallhagen
- stop at 16:00 at Pub Stallhagen

Pub Stallhagen is about 20 km from Mariehamn and about 35 km from Eckerö and you´ll transport yourself to the pub before going on the tour.

The tour is available everyday between 25 July and 7 August 2016 and the prices vary depending on the amount of people:

2 persons: € 125/person
3-5 persons: € 100/person
6-8 persons: € 80/person

Minimum: 2 persons.

Bike, helmet, any entrances, taste samples and more is included in the price, all depending on what the guide feels like showing. Maximum 8 persons.
Show more
Bed & Breakfast
Distance: 6.4 km
Saltvik B&B is located in the old, tradition-filled Husmoderskolan in Åland. An excellent place to stay, especially for families with children and all others, wishing to relax in peace and quiet. You easily reach us by bike, motorcycle or car
Hotels
Distance: 8.1 km
Bastö Hotell & Stugby is located in the middle of the beautiful Åland Islands. It is surrounded by warm sea gulfs, bathing coves and smooth red cliffs.
 Bastö Hotell & Stugby is near all the tourist attractions on the island, and there's a swimming beach only 100m away. The distance from the ferry terminal and airport to Bastö is 28 km. Individuals or groups, old or young, this is a place you cannot miss.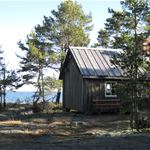 Cottages
Distance: 15 km
Sviskär is an island of 28 acres in the north of the Åland archipelago. Sviskär is a haven for those seeking tranquility and the simple life. Here you can take a break and just listen to the sounds of nature during a couple of days. The island is small enough to take a walk around it.There is no electricity on the island.