Pettas Ecological Bakery and Handicraftcafé
Adresse: Finnövägen 327, 22340 Geta
Karte anzeigen
Adresse: Finnövägen 327, 22340 Geta

Pettas Ecological Bakery and Handicraftcafé is a peaceful oasis at the end of the road in Finnö village, Geta, Northern Åland. From the Geta church continue strait ahead along the main road for 3,5 km.

Enjoy our home made pastries and light meals, coffee and tea. All naturally organic and of highest quality. The summer café is open in 2019 daily on 22 June−12 August at 10 am−5 pm.

You have the option to buy local handicraft and look at an exhibition in our room upstairs.

You may also buy some newbaked organic bread in the breadshop before you leave.

Follow us on Facebook on www.facebook.com/pettascafe
Mehr anzeigen
Über diese Aktivität
Telefonnummer Reservierung

Telefonnummer

Email

Links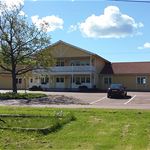 Hotels
Entfernung: 8,8 km
Bastö Hotel & Stugby is located in the middle of the beautiful Åland Islands. It is surrounded by warm sea gulfs, bathing coves and smooth red cliffs.
 Bastö Hotell & Stugby is near all the tourist attractions, and there's a swimming beach only 100m away.
Hotels
Entfernung: 8,6 km
Havsvidden resort is located in the north of Åland near Norrhavet and the nature. It is always spectacular at Havsvidden both in winters and summers. The main building consists of reception, bar, restaurant, lounge and conference rooms. We are offering ackommodation in hotel rooms and cliff houses and what is more, we have a marina which provides 20 places for visiting boats. In our poolhouse we have a sauna, swimming pool and jacuzzi.
Hotels
Entfernung: 8,5 km
Welcome to a truly unique place. Here on Åland's northern tip we have our own 2,3 mile long strip of shore and 50 acres of land. Here you will find just us and the ocean - nothing else.