Boat excursion to Sälskär by M/S Silvana
Date: Wednesday 30 jun 2021 - Wednesday 25 Aug 2021
Show map
Book now - choose start date and product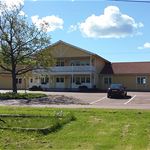 Hotels
Distance: 7.6 km
Bastö Hotel & Stugby is located in the middle of the beautiful Åland Islands. It is surrounded by warm sea gulfs, bathing coves and smooth red cliffs.
 Bastö Hotell & Stugby is near all the tourist attractions, and there's a swimming beach only 100m away.
Campsites
Distance: 10 km
Motorhomes and caravans
Hotels
Distance: 13.6 km
Havsvidden resort is located in the north of Åland near Norrhavet and the nature. It is always spectacular at Havsvidden both in winters and summers. The main building consists of reception, bar, restaurant, lounge and conference rooms. We are offering ackommodation in hotel rooms and cliff houses and what is more, we have a marina which provides 20 places for visiting boats. In our poolhouse we have a sauna, swimming pool and jacuzzi.